Events in the Spreeparadies vacation home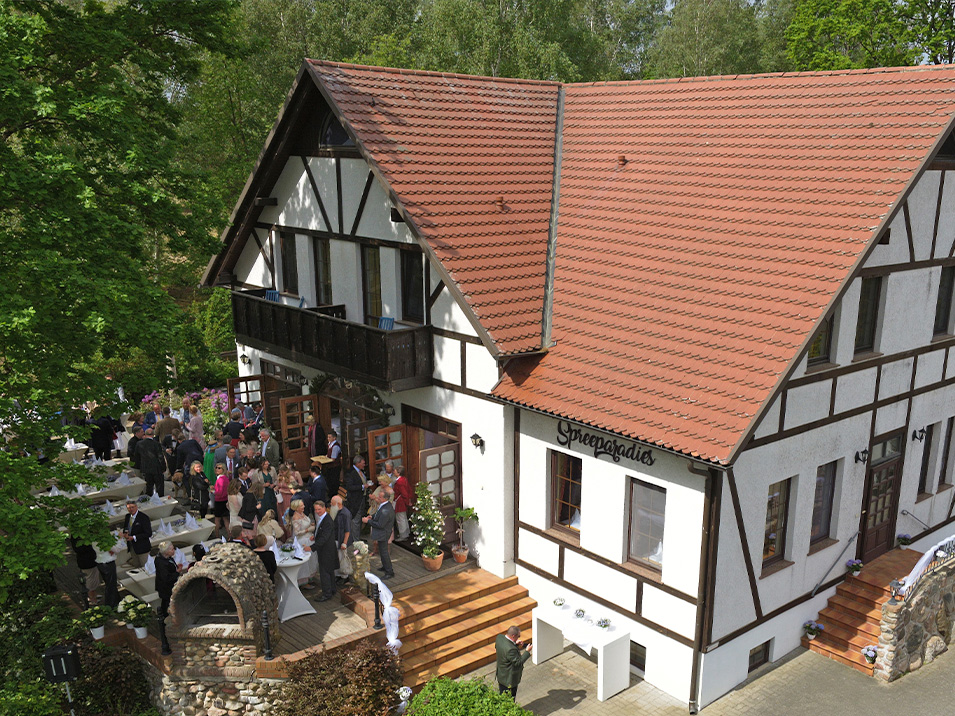 The Spreeparadies offers a natural ambience directly on the water for any celebration, no matter what time of year. (Please ask for possible number of persons)

With its two spacious, separable, living and working rooms, festivities or meetings can be optimally planned. The sun terrace extends across the entire width of the house in front of both rooms. The terrace overlooking the Spree River provides an idyllic backdrop for corporate events, weddings, birthdays, family and friends reunions, as well as personalized corporate workshops.

As an event location for weddings, baptisms, round birthdays or other celebrations, the Spreeparadies offers you a place that convinces through nature and harmonious interior design. This is for those who do not want the pomp of a castle and prefer elegant naturalness.
Conferences x Courses x Training
The separable seminar room for about 30 people invites for meetings of many kinds. A ceiling beamer with a large screen provides the necessary technology for your meeting. Smokers can step unhindered from the meeting room onto the terrace and are not cut off from the others. The many windows allow the room to be quickly ventilated at any time, should the participants run out of steam. The quietness around you makes it possible to work with the windows open and the view of the Spree takes the wind out of the sails of even the sharpest discussion.
Courses and trainings such as Yoga, Tai Chi, Pilates, or therapeutic fasting, which benefit from tranquility, good air and closeness to nature, are ideally suited in the Spreeparadies. For small groups (14-20 people) who want to achieve something together over a longer period of time. Further education and relaxation in alternation can be easily implemented here, so that physiotherapists for back training, kinesiologists with body work and coaches with thinking and soul work find an ideal setting for their clients in Spreeparadies. Corporate offsites for high productivity. Brainstorming with results. Small teams, high efficiency.